Release Blitz & Review
All or Nothing
by
Lexi Ryan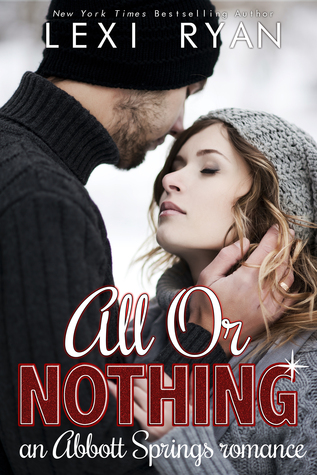 **ALL OR NOTHING is a short, sexy, new adult romance and is also available as part of the ALL I EVER WANTED anthology.**
After years of placing the wrong bets, all Aubree Baxter ever wanted was someone to take a chance on her. More specifically, she wants golden boy Kennedy Hale, her good friend and unrequited crush. After a seduction attempt gone terribly wrong, she knows pursuing anything more than friendship with Kennedy means sure heartbreak. If they're going to make this work, it has to be ALL OR NOTHING.
~ Add to Goodreads ~
~ Review ~
Yet another great read from Lexi Ryan. All or Nothing is a novella that was previously featured as part of an anthology but if you are looking for a sweet engaging read full of love and some angst then this is one for you.
It is no surprise for me to get get caught up in the characters that Lexi brings to life between the pages that has me routing for them to find their way.
Kennedy's life has been mapped out for him by his father. He knows what is expected of him and he has a plan. That being said he doesn't like to venture outside of his comfort zone. Aubree a/k/a Bree is more of a free spirit. She doesn't have the stable home life to keep her rooted so she moves around a lot following sometimes even just to follow the current man in her life.
Kennedy and Aubree have been best friends for years and have been hiding their feelings for one another almost as long. But one night Bree decides its time to take it to the next level and is harshly rejected. When fate reunites them a few months later only to separate them once again will Bree and Kennedy finally be able to admit their feelings for one another? Will they find a way to take their friendship to a new level without losing it? Will it be "ALL or NOTHING"?
~ Rating ~
New York Times
and

USA Today

bestselling romance author Lexi Ryan's novels have been described as intense, emotional, and wickedly sexy. A former college professor, she now writes full-time from her home in Indiana, where she lives with her husband, two children, and a neurotic dog. Find her on Facebook or Twitter to chat about books, TV, and her children's latest antics.
Website
**
Facebook
**
Twitter